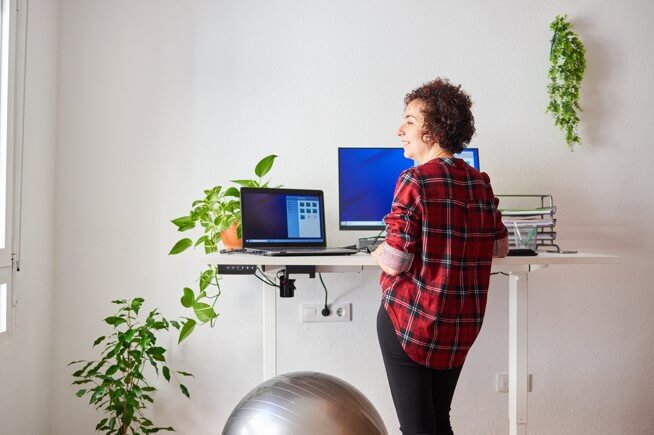 Debunking Common Myths About Adjustable Standing Desks
Since adjustable standing desks are becoming increasingly popular, they are also not safe from myths and other false information.
At Lazy Maisons, we will tackle misinformation and debunked myths surrounding this trendy sit-stand desk.
Stand All Day
Some individuals claim that adjustable standing desks are most effective if you're standing all day. That's why it's more practical to have it fixed at a standing position. Though sit-stand desks encourage you to stand while working, you shouldn't take this too literally. Even if standing burns the most calories, finding the right balance on when to alternate positions is the healthiest way.
Sitting for a long time reduces blood sugar regulation and metabolic rate. This reduction in blood pressure and metabolic ability can result in weaker bones and muscles, leading to disorders.
On the other hand, standing for too long can result in blood pooling and increased vein pressure on the legs, which may lead to cardiovascular problems. Not only that, you can experience having sore legs if you're standing unhealthily for too long.
We recommend changing positions for 30 minutes and adding a little movement, walking, or stretching to prevent fatigue and encourage blood flow. If you're new, you can try sitting for 20 minutes, standing up for eight, and walking or moving around for two minutes.
Adjustable Standing Desks are just a costly gimmick
Influencers, bloggers, and other well-known health and productivity ambassadors promote sit-stand desks, and some people mistake it as a nonsense timely gimmick. There may be several marketing schemes in the health industry, but we can assure you that standing desks aren't part of them. 
We all need a desk for work, study, or as part of a hobby, making it a vital piece of furniture in your home. The only difference is that a standing desk can help you work in different elevations to make it easier and healthier.
Products marketed to flow through trend and novelty usually wear off and are quickly discarded. This scenario does not fit sit-stand desks as they are crafted to endure everyday use for years. These tables are also supported by years of research and user testimonies, making it a legit piece of health investment in your home.
The Lazy Maisons Motorised Adjustable Desk, for example, comes with years of warranty. This warranty ensures that we craft products that are durable and built to last.
Sit-stand desks have an irrelevant impact on health
Shifting positions while working doesn't guarantee noticeable physical results if your goal is to lose weight or gain muscle. The fastest way to shed weight is to control your diet and work out regularly. It would help if you didn't expect too much as a desk is not fitness equipment but a well-being tool.
An adjustable standing desk, if used correctly, prevents you from passive posture and positions. The physical effects may not be noticeable for a few months, but every little choice made daily creates a more significant impact. You know you're burning more calories which may not be physically evident at first but can create a ripple effect to a healthier future.
You shouldn't miss the mental benefits of these tables as well. You'll notice that you have more energy and better focus, and it becomes easier for you to get creative.