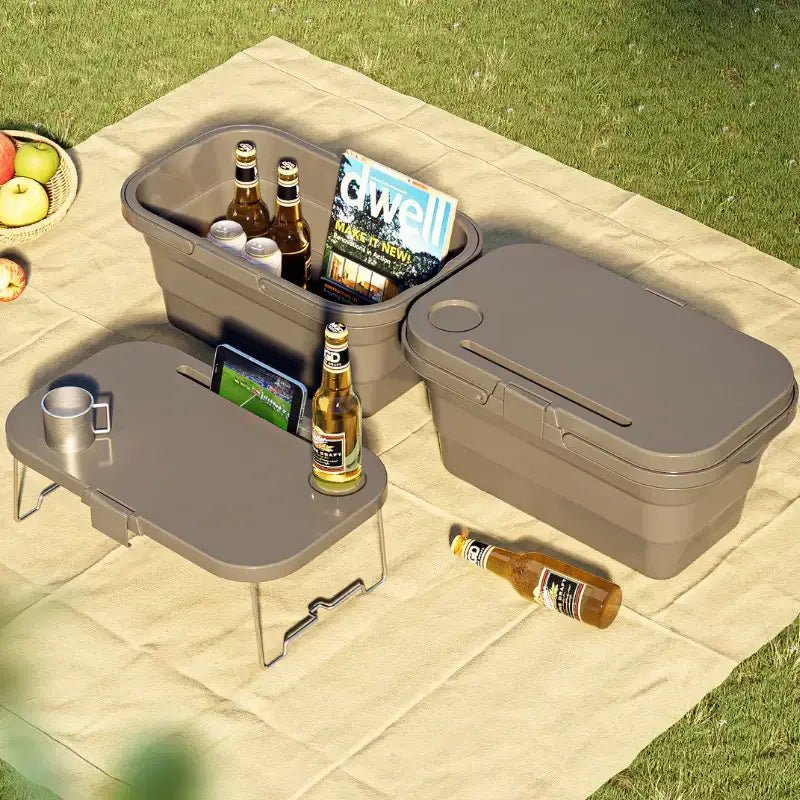 10 Things You Should Include In Your Picnic Basket
You may think you've got it all ready for your picnic. You have the food, a picture-perfect spot, and the right people coming with you. But, you want to have it perfect and not forget anything.
At Lazy Maisons, we also want the same thing. We want you to enjoy your picnic and ensure that you're packed for any situation. We've listed ten things you might want to add to your basket.
Frozen Water Bottles
One of the things you should remember is to keep cold foods cool and hot ones warm. This way, you can ensure that your loved ones eat the food of good quality and taste. If you're still using ice packs, we recommend replacing them with frozen water bottles. You can also enjoy them as cold drinking water after they cool your beverages.
Corkscrews and Bottle Openers
Skip the hassle of opening your bottles by unconventional means. Your favourite drinks should always be ready to enjoy, so remember your bottle and wine openers. Don't also forget your plastic and reusable cups for these drinks.
Wet Wipes
Wet wipes work like a charm. They're lightweight, portable, and deal with sticky spills and substances. And you don't have to wash them since you're just throwing them away. It's also one of the things you need, especially if there's no running water nearby.
Seasonings
You might think these salt, pepper, and extra seasonings and sauces are excess weight. But it's a thoughtful add-on to your meal, especially if you're eating grilled chicken. Also, some of your loved ones might love extra saltiness and flavour.
You can also easily pack and bring your picnic items with the Lazy Maisons Foldable Camping Cart, so you don't have to carry multiple bags and baskets.
Paper Towels
Wet towels do an exceptional job wiping stuff, but it's not practical to use them on all spills all the time. You can make do with a cloth towel or paper towels, especially if there's a big spill. We recommend getting the paper towel roll as it's not easily blown away compared to a stack of napkins.
Tray
Trays efficiently provide a smooth surface that prevents your drinks and bowls from toppling, especially if you're eating in the sand or ground. You can use lightweight or enamel trays for your picnic as they are lighter and easier to clean.
The Lazy Maisons Foldable Picnic Basket offers multiple functionalities as you can utilise its lid as a small table or a lap tray. You can easily set up your drinks and gadgets with its cup and phone holder. The basket can be used as a storage container, ice bin, drinks bucket, or more.
Serving Spoons
Cutlery is essential, but make sure that you remember large spoons for serving. Using serving spoons or forks enables food not to get spoiled quickly.
Knife
Folding knives are easy to pack and are handy for various tasks. For example, they can be used to prepare meals and open rigid food packaging.
Cutting Board
What's a picnic without cheese? Instead, get delicate cheese slices with a knife and a lightweight cutting board. This incredible duo gives you delicious cheese, fruits, sandwiches, and sausage slices.
Trash Bags
Always keep your picnic area clean. Keep your space and items organised by bringing your trash bags. That way, you don't have to walk to nearby garbage cans to dump your trash all the time. You can easily clean up when the picnic's over.
Don't miss anything; pack it all in the Foldable Picnic Basket. Enjoy the sturdy and easy-to-clean PP and TPR materials that are resistant to abrasion and beating.
You can also look at other camping must-haves from Lazy Maisons: