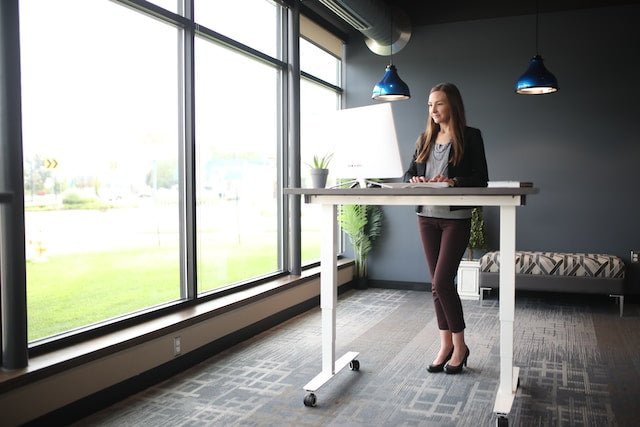 Shifting Towards Standing Desks in the Workplace
Many companies have replaced traditional desks with adjustable standing ones in recent years, revolutionising the modern workplace. This transition reflects a shift in our understanding of health and productivity. However, the passive nature of office work has raised concerns about its adverse effects on employee well-being.
At Lazy Maisons, we will explore the reasons behind the increasing adoption of standing desks and highlight their potential benefits for both employees and organisations.
Health and Wellness
One of the primary drivers behind the conversion to sit-stand desks is the growing recognition of the health risks associated with prolonged sitting. Research has linked excessive sitting to various health issues, including obesity, cardiovascular disease, and musculoskeletal problems. Using standing desks encourages employees to alternate between sitting and standing positions throughout the day, reducing the negative impact of prolonged sitting.
Standing increases energy expenditure, enhances blood circulation, and promotes better posture. It can also aid in alleviating back and neck pain commonly experienced by desk workers. Moreover, standing desks have been shown to combat sedentary behaviour contributing to obesity and related health problems. By incorporating standing into the work routine, employees can improve their overall health and well-being, reducing absenteeism and increasing productivity.
Enhanced Productivity and Focus
Standing desks have gained popularity for their potential to boost productivity and focus. Employees who stand tend to feel more alert and engaged, resulting in increased concentration and efficiency. In addition, adjusting desk height enables individuals to find their optimal working position, promoting comfort and reducing distractions.
Furthermore, standing desks can facilitate better collaboration and communication among colleagues. They create an open and dynamic environment, encouraging spontaneous interactions and idea exchange. Standing during meetings or brainstorming sessions can promote active participation and foster a sense of teamwork.
Workplace Culture and Employee Satisfaction
Integrating standing desks into the workplace represents a commitment to employee well-being and a forward-thinking approach to company culture. Organisations can attract and retain top talent by prioritising employee health, demonstrating that they value their workforce beyond their productivity.
Providing standing desks also shows employers are responsive to changing expectations and trends in the modern work environment. In addition, it demonstrates a willingness to adapt and embrace innovative practices that align with employee preferences.
Moreover, offering standing desks promotes a positive work atmosphere and enhances employee satisfaction. Employees feeling supported and comfortable in their physical workspace can positively impact their morale, job satisfaction, and overall engagement. This, in turn, contributes to a positive and productive work environment.
At Lazy Maisons, we recognise this rising demand for healthier workspaces in the corporate world. Our desks are manufactured to meet those needs, with quality workmanship and ease of use. We take pride in our easy-to-install slide-in and fasten system so anyone can quickly build their standing desk, and you can have your table ready in no time. Besides that, you'll also have three sizes to choose from with excellent weight capacities, so you don't have to worry if you put a lot of stuff on your desk.
The Lazy Maisons Desks are genuine to beat with excellent customer service backed with a 5-year warranty, ensuring durability. Do you have a customised tabletop? Then you can settle for our Lazy Maisons desk frame and still get the necessary adjustability.